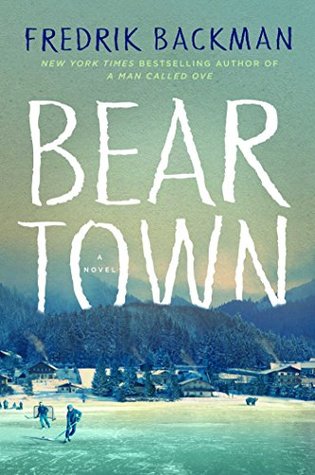 Rating:
The #1 New York Times bestselling author of A Man Called Overeturns with a dazzling, profound novel about a small town with a big dream—and the price required to make it come true.
People say Beartown is finished. A tiny community nestled deep in the forest, it is slowly losing ground to the ever encroaching trees. But down by the lake stands an old ice rink, built generations ago by the working men who founded this town. And in that ice rink is the reason people in Beartown believe tomorrow will be better than today. Their junior ice hockey team is about to compete in the national semi-finals, and they actually have a shot at winning. All the hopes and dreams of this place now rest on the shoulders of a handful of teenage boys.
Being responsible for the hopes of an entire town is a heavy burden, and the semi-final match is the catalyst for a violent act that will leave a young girl traumatized and a town in turmoil. Accusations are made and, like ripples on a pond, they travel through all of Beartown, leaving no resident unaffected.
Beartown explores the hopes that bring a small community together, the secrets that tear it apart, and the courage it takes for an individual to go against the grain. In this story of a small forest town, Fredrik Backman has found the entire world
It takes a village to raise a child. The community in Beartown is fierce in its love for ice hockey – and in turn fostering an environment where their kids grow up playing the game, cheering for the game, targeting the major leagues, the NHL and just being involved in it in some way or the other. A good part of the book is about this – fostering a culture where everyone are involved in pooling their resources to push their sons to be the  best in the game. The book builds towards a game that, if the team wins, would revive the dying town by attracting sponsors. Then, an act of violence against a girl brings out the worst in everyone, and the best in some. Sides are taken, a culture of stoicism turns into a shameful culture of silence. The victim is re-victimized – questioned and bullied. The family is boycotted. The "village" that is supposed to have raised their children fosters a community that turns their back on one of their own. It favors hockey over a person: A girl who is dehumanized – who would always be known as "that girl" for the rest of her life.
This is an "ensemble" small-town story at its finest. A story that is more than just a losing team in a dying town. More than just scores and hockey games. It is about a town where everyone knows everyone else. Where a lot of people have moved on to bigger towns but so many have stayed back. I don't think we are ever told which country this is set in. But it doesn't really matter. It could be set anywhere – because you would always find that one small-town in some remote part of a country that is fighting to be heard by the bigger cities. Fighting to stay relevant. To get funds. To save their stores and schools from shutting down.
This is a story with a diverse cast of characters who leap off the pages because they are given distinct voices. The deeply ingrained biases are questioned and addressed on-page with characters introspecting their own "It is all in good fun" behavior over the years. 
This is a story about parenting and the right kind – about raising your sons to be decent men and not just testosterone-filled noisy boys in locker rooms who think machismo is about dirty jokes and winning games on the ice rink. 
It is a story about mentors and coaches. The clash between old ideologies  and new thought processes. The blurred lines between nurturing talent with care and pushing for immediate results. The fine lines between loyalty towards your team, your town and your coach. 
It is the story of finding courage in the unlikeliest of places – where the have-nots with everything to lose show more gumption than people with weight and cash to throw around. 
It only takes one spark to start a fire.